We are proud to announce that Dual Good is now an official Oculus ISV Partner.
As described on Oculus for Business's website, "The Oculus ISV Program is a program that works with enterprise developers and Independent Software Vendors (ISVs) to engage with Oculus in order to accelerate customer adoption of VR solutions built for Oculus enterprise products.""
The program's mission is to "Revolutionise the way that the world's top companies work and collaborate."
Why we joined
By joining the program, we, at Dual Good Health, are aiming to keep contributing to the VR ecosystem and be part of the VR community that is now building the future of enterprise and consumer tools and shaping the way that people will collaborate, work and train.
As a result of joining the programme, we are now listed on the Oculus ISV Directory where you will find us listed in the categories "Health & Wellness" as well as "Employee Training".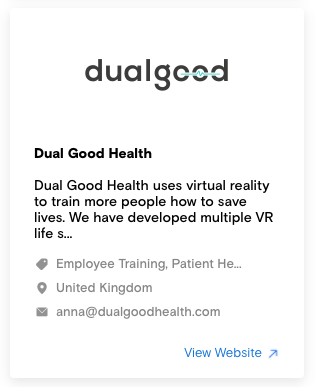 Find out more
Get in touch to find out more about our involvement in the VR ecosystem. You can also find out more about the Oculus ISV programme on the Oculus for Business website.